Overview
It is important to note that pronation is not wrong or bad for you. In fact, our feet need to pronate and supinate to achieve proper gait. Pronation (rolling inwards) absorbs shock and supination (rolling outwards) propels our feet forward. It is our body?s natural shock-absorbing mechanism. The problem is over-pronation i.e. the pronation movement goes too deep and lasts for too long, which hinders the foot from recovering and supinating. With every step, excess pronation impedes your natural walking pattern, causing an imbalance in the body and consequent excessive wear and tear in joints, muscles and ligaments. Some common complaints associated with over-pronation include Heel Pain and or plantar fasciitis, ball of foot pain, achilles tendonitis, shin splints, knee pain, lower back pain.
Causes
Over-pronation is very prominent in people who have flexible,
flat
feet. The framework of the foot begins to collapse, causing the foot to flatten and adding additional stress to other parts of the foot. Therefore over-pronation can often lead to a case of Plantar Fasciitis, Heel Spurs, Metatarsalgia, Post-tib Tendonitis and/or Bunions. There are many causes of
flat
feet. Obesity, pregnancy or repetitive pounding on a hard
surface
can weaken the arch leading to over-pronation. People with
flat
feet often do not experience discomfort immediately, and some never suffer from any discomfort at all. However, when symptoms develop and become painful, walking becomes awkward and causes increased strain on the feet and calves.
Symptoms
In addition to problems overpronation causes in the feet, it can also create issues in the calf muscles and lower legs. The calf muscles, which attach to the heel via the Achilles tendon, can become twisted and irritated as a result of the heel rolling excessively toward the midline of the body. Over time this can lead to inflexibility of the calf muscles and the Achilles tendon, which will likely lead to another common problem in the foot and ankle complex, the inability to dorsiflex. As such, overpronation is intrinsically linked to the inability to dorsiflex.
Diagnosis
To easily get an idea of whether a person overpronates, look at the position and condition of certain structures in the feet and ankles when he/she stands still. When performing weight-bearing activities like walking or running, muscles and other soft tissue structures work to control gravity's effect and ground reaction forces to the joints. If the muscles of the leg, pelvis, and feet are working correctly, then the joints in these areas such as the knees, hips, and ankles will experience less stress. However, if the muscles and other soft tissues are not working efficiently, then structural changes and clues in the feet are visible and indicate habitual overpronation.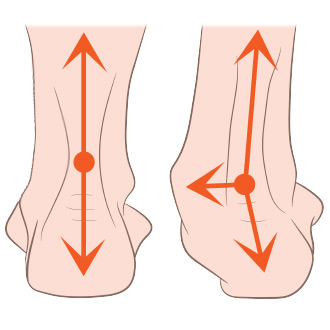 Non Surgical Treatment
Your podiatrist will look at your current footwear to ensure that it is both well-fitted and possessed of adequate cushioning to protect your feet. Firm heel support is advised for over-pronators, and a good fit is important to ensure that the foot as a whole is well supported as instability can exacerbate the existing problems caused by over-pronation.
Surgical Treatment
Depending on the severity of your condition, your surgeon may recommend one or more treatment options. Ultimately, however, it's YOUR decision as to which makes the most sense to you. There are many resources available online and elsewhere for you to research the various options and make an informed decision.